Dr. Zi-li Lei gave a lecture, entitled "EpCAM contributes to formation of functional tight junction in the intestinal epithelium by recruiting claudin proteins" on December 24, 2014. This meeting was chaired by Prof. De-Sheng Pei, who is a dean of research center for Environment and Health (RCEH) and Prof. Sheng-jun Wu and other scholars attended this meeting.
Dr. Lei analyzed expression levels of EpCAM gene in the developing intestinal epithelium of wild-type mice and constructed the EpCAM gene mutation mouse model. He found that Claudin-7 could associate with EpCAM and colocalize at cell–cell junctions. Moreover, other members of the Claudins family, Claudins2, 3, 7 and 15, were down-regulated in the intestine of EpCAM mutant mice, while claudin-7 was reduced to undetectable levels. These results suggest that EpCAM contributes to formation of intestinal barrier by recruiting claudins to cell–cell junctions. Dr. Lei and participants had an in-depth discussion on some interesting academic topics at the end of meeting.
Dr. Lei's research mainly focuses on constructing transgenic mice models, and studying on the relationship of the adherens junctions and desmosomes in epithelial tissues. During his postdoc research, he published more than ten articles, and parts of the articles have been cited by many famous peer-viewed journals, such as Nature Communications, J Exp Med, Dev cell, Endocrinology and J Biol Chem. etc.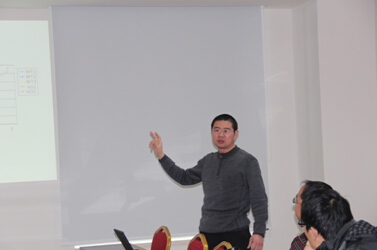 Dr. Zi-li Lei made an academic report