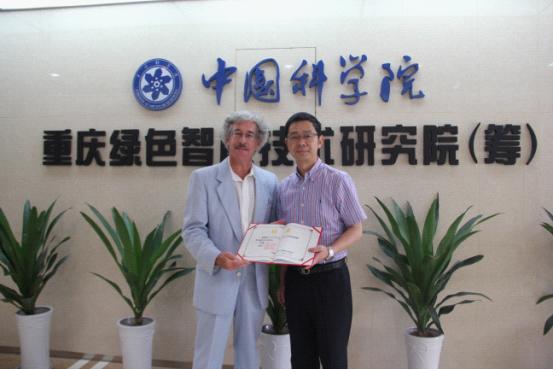 During June 18 – 19, Gerald E. Loeb, The United States Institute of Biomedical Engineering visited the Chongqing Institute. During the visit, Dr. Loeb gave an Academic report entitled" Biomimetic Technology for Haptically Enabled Robots". Dean Yuan Jiahu and other more than 30 people from the Science and Technology Department and technology, Intelligent industrial design Engineering Center and Intelligent multimedia technology research center listened to the report and carried out academic exchanges. After the conference, Dr. Loeb as one member of the Strategic Advisory Committee of Chongqing Institute accepted the appointment awarded by Dean Yuan Jiahu .
   Dr. Loeb is the director of Medical Equipment Research and Development Center in California University. His majors are Motion Perception of Neurophysiology, Biological Control, Intelligent Machine and so on. The specific direction is the manual Nerve repair and reconstruction by Minimally invasive operation. Dr. Loeb has Published over 300 journal articles and monographs and 55 U.S. patents.
In the period, Dr. Loeb was invited to the Third Military Medical University given an academic report entitiled " Challenges and Opportunities in Neural Prosthetic Interface".